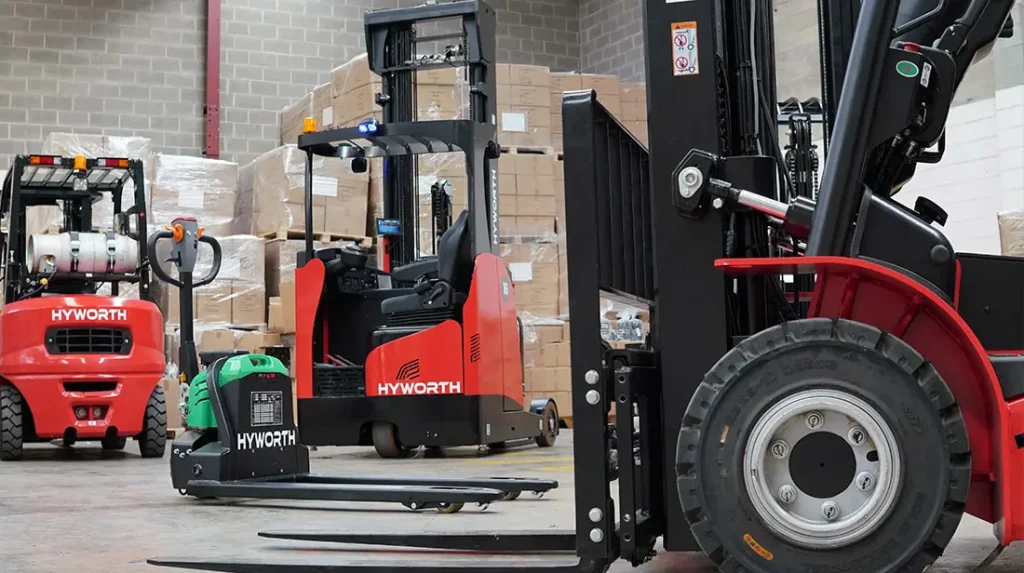 Even if you have extensive experience operating a forklift, operator mistakes can still occur.
Each year preventable operator mistakes are still being made in the workplace. As well as putting lives in danger, these mistakes can lead to dire consequences for a business. The bottom line is simple – don't become complacent when operating a forklift. It's not worth the risk.
Below we've listed 5 of the most common forklift operator mistakes that are easily avoidable.
1. Check the forklift load capacity
Incorrect load capacity is the most common forklift operator mistake made. Since carrying a load that is too heavy is a definite way to destabilise your forklift, this feature is crucial to check before any operations.
The capacity is the maximum weight that the forklift can safely carry. To keep the forklift stable, you need to consider the lift capacity, the maximum weight it can safely carry, and the vertical lift travel.
You can check the load capacity on the forklift data plate, which contains all of the required information for that forklift, such as the load the forklift can safely lift at different mast orientations, or when there is an attachment fitted.
As the operator, it's your responsibility to ensure the forklift you're operating is the right fit for the task and that it has the capacity to handle your required load.
2. Forklift pre-safety checks are a must
Before you operate a forklift you should carry out a pre-operation inspection. A pre-start safety check can reduce the risk of forklift operator mistakes occurring, and should include:
Hydraulic fluid – Not checking hydraulic fluid can result in significant complications. Without proper fluid levels, the forklift lifting capacity may be impacted or not work at all. The load you're carrying could drop, potentially harming pedestrians or damaging equipment.
Gas and fuel levels / Battery – Is there enough gas or fuel needed to complete the task? Or is the battery fully charged? Running out of gas or power in the middle of a task could cause damage to equipment or harm to pedestrians.
Tyre pressure – Flat or low tyre pressures can potentially cause the forklift to tip its load. A tyre with low pressure may also burst, resulting in the forklift tipping over. Repair any issues with your forklift tyres immediately.
Safety signal devices – Check that the horn, audible signals, entry bar, flashing lights, indicator lights etc. are all working properly to reduce the risk of injury to your co-workers. When carrying loads, forklifts can present many blind spots, which is why checking these signals prior to operating is highly important.
3. Monitor your speed
Another major forklift operator mistake, and a common cause of workplace accidents, is speeding. There should be a traffic management plan in place which determines the appropriate speed limits in your workplace. These speed limits should also be clearly signposted and visible to the forklift operator. Forklifts can be unstable and speeding or braking too fast can easily cause a forklift to topple over or lose its load.
Speeding up to get a job finished quicker can be dangerous to the operator, co-workers and pedestrians. Safety should always be at the top of your list. Not following the recommended speed limits in your workplace is an accident waiting to happen.
4. Improve your workplace communication
In a busy warehouse or storage yard, a forklift can be one of the most dangerous pieces of equipment. There are often pedestrians or co-workers close to operating forklifts. This can present another common forklift-related accident – a pedestrian getting struck by a moving forklift. By using proper communication this type of accident can be greatly reduced.
A few ways in which good forklift communication works include:
Advise people of your task and the route you will be taking so they are mindful of your operations.
Use the forklift signals – the horn, flashing lights, indicator lights and hand signals.
If possible, use an experienced signaller to assist you to safely lift a load and navigate the picking path.
Have visual barriers and designated forklift operation zones to prevent any unauthorised access.
Eye contact – with either the forklift operator or pedestrians, so you know that you are both aware of each other.
5. Stay aware of the dangers of forklift use
When operating a forklift, proper training and common sense is key to reducing forklift operator mistakes. You should only operate a forklift for the purpose it was designed and be vigilant about following workplace policies and safety protocols.
It's also important to know the forklift picking path you'll be taking and be aware of any obstacles along the way.The dangers of forklifts are usually downplayed, but forklift-related accidents are serious and can often be fatal.
Forklift hire can ensure you have the right fit for the task
At Hyworth Forklifts, we have a wide range of forklifts for hire to ensure you can use the right forklift to suit your requirements.
All of our hire fleet comes with the Hyworth Forklifts service and reliability guarantee. We provide expert breakdown support within 4 business hours and if we can't repair your forklift within 48 hours, we'll replace it, at no cost to you.
Our equipment has been specifically designed for warehouse applications with various lift and reach capacities available.
Our range for hire includes:
LPG/gas Forklifts
Walkie Reach Stackers
Pallet Movers
Reach Trucks
Electric Counterbalance Forklifts
For personalised advice on all your forklift needs, give us a call today on 1300 499 678, or visit us at our Peakhurst location. If you're unsure about the type of forklift you'll need, the team from Hyworth Forklifts will be more than happy to assist you.