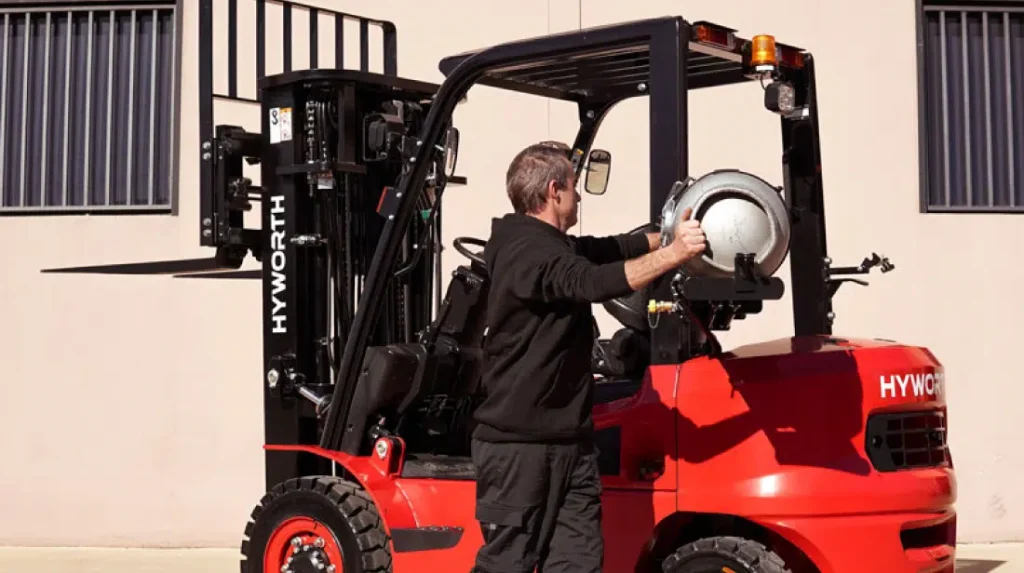 Imagine if one of your employees had a forklift-related accident at your workplace.
Your first thought would be that you hope everyone is okay. With your employees safe and accounted for, your next thought would be replacing the forklift and implementing strict safety procedures to avoid any potential damage to your business' reputation.
What could make the situation even worse? Knowing that you could have prevented the incident by having your employees complete adequate forklift training.
Not only does forklift training promote workplace safety, but it also has many other benefits that can save your business time and money.
Here are the five top benefits of forklift training for you and your employees.

1. Forklift training is the key to safety
Employers have the responsibility to promote a safe workplace for their employees. Regular forklift training will help reduce the risk of forklift-related incidents. By having an industry professional train your team on strategies to prevent common injury, you can discourage unsafe practices at your workplace.
Keep in mind, operating a forklift comes with risks to both the operator and others around them. Every employee should undergo training, regardless of whether or not they will be operating a forklift. Training will educate your employees to be extra cautious when forklifts are moving nearby. Therefore, improving your overall workplace safety as a result.

2. Forklift training builds your employees' confidence
As an employer, you want your workers to feel safe. However, you also want to know they are engaged and reaching their full potential. By regularly training your employees on forklift operations, you are boosting their confidence and motivation. As their confidence begins to grow, they will be able to operate more efficiently.
Forklift training can go beyond the basics. Training can be used to upskill your employees, teaching them efficient ways to use advanced machinery. By challenging your employees and advancing their skills, you can reap the benefits by elevating staff morale. Higher staff morale leads to a team of engaged employees, who care about your businesses success.

3. Practice equals productivity
In order to operate most forklifts in Australia, you must obtain a forklift licence. A forklift license becomes proof that you have completed at least the minimum level of forklift operator training. However, there are many advantages to both the employees and the employer of advanced forklift training.
An experienced trainer can improve your existing skills and identify opportunities for growth, in turn leading to faster and more efficient workplace operations. By dedicating extra time for forklift operator training, you are allowing your employees to consistently learn and grow within their roles.
Coupled with one of Hyworth's late-model forklifts, your employees will be equipped with the expertise and machinery to see an increase in workplace productivity.

4. Enjoy cost-saving benefits
Putting in the extra time and money to ensure your employees are properly trained is a smart investment. This is because training can result in long-term cost-saving benefits for your business. The main reason being that a thorough understanding of forklift operation should result in fewer breakdowns.
Forklift training can also help to cut your maintenance costs. By educating employees on correct technique, damage prevention and identifying the early signs that a forklift requires a service, you can stay ahead of your maintenance costs and save.
A trained employee will be aware of the steps required to prevent physical damage, such as carefully lowering your pallets and not overloading the forklift. Less physical damage will help you secure a better ROI if you need to sell or upgrade your fleet.

5. Avoid out-of-pocket medical expenses
When forklift-related injuries occur at a workplace, the cost of the damage will inevitably fall back on the business owners. Medical bills can cost an employer thousands of dollars. To lower the risk, train your employees regularly and ensure that they understand the dangers associated with not following forklift safety protocols.
As a result, your insurance company will reward you for the extra care and training, charging you less in insurance premiums. Some insurance companies will even lower the cost of your worker's compensation coverage if you have evidence of regular forklift operator safety training.
—
If you're looking for a state-of-the-art forklift to match the advanced skillset of your highly qualified employees,  speak with our team today on 1300 499 678.