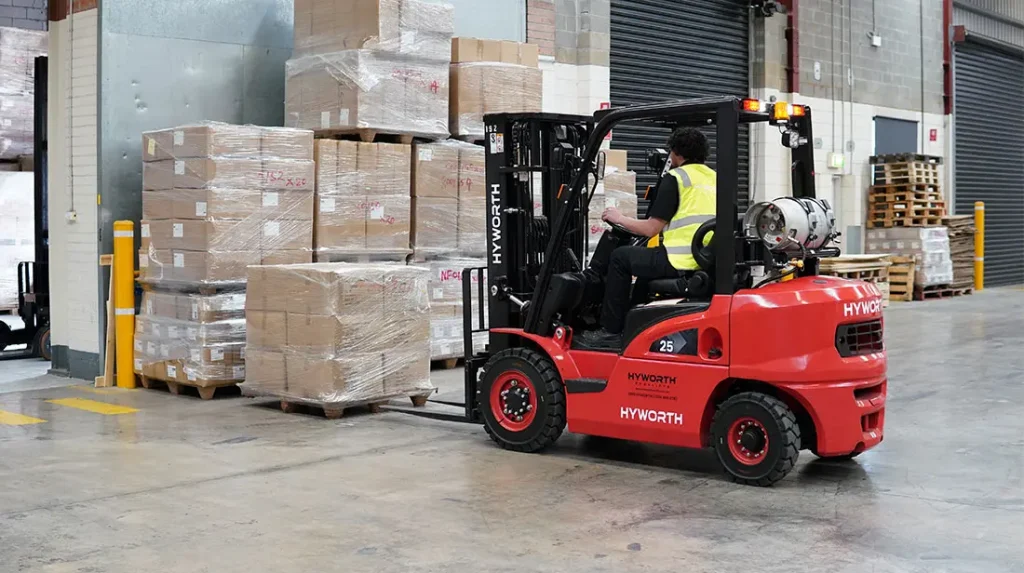 With 1 in 6 workplace deaths involving a forklift, roughly 70% of which are preventable, the logic is straightforward: When operating a forklift, safety should be your number one priority. Yet each year, workplace-related injuries and deaths involving forklifts continue to occur across Australia, jeopardising not just the forklift operator but the people around them!
Education is key to forklift safety
Reducing the risk of forklift-related injuries is the responsibility of both an employer and the employee.
Be proactive – Be mindful of what can go wrong and don't wait until an injury or death occurs before you implement safe working practices.
Here are the 5 most common reasons people are harmed or killed by a forklift:
Driver error – Pedestrians being struck, trapped or run over by a forklift
Inadequate traffic management
Not using correct attachments when needed
Assisting to adjust or steady a load
Forklift tip-overs
Hyworth Forklifts takes forklift safety seriously
Trust us – as a specialist name in the forklift hire services, we don't take safety lightely. When you purchase or rent a forklift from Hyworth Forklifts, our forklifts undergo strict routine maintenance and repairs to ensure that all of our equipment complies with government WHS standards and runs safely. All forklifts are workshop tagged and tested.
Looking for ways to increase your forklift safety precautions? From our years of experience, we encourage you to try the following 6 things:
1. Correct training and supervision
Always remember the golden rule! Anyone who operates a forklift must be at least 18 years and hold a "high-risk work forklift" licence.
If a person is currently in training with a Registered Training Organisation for this licence, sure, they can operate a forklift, but someone who holds the correct license and has the appropriate workplace experience must supervise them.
There are no if's, and's or buts about it.
2. Effective traffic management
Effective traffic management is key to forklift safety, especially to reduce the risk of pedestrian injuries or fatalities.
As a rule of thumb: The workplace should be well-lit to ensure visibility and, at all times, should have pathways visibly marked (if possible use physical barriers such as bollards) to separate forklift paths from pedestrians. Any blind spots need to be minimised, any restricted areas or intersections clearly pointed out, and dedicated loading and unloading areas must be created.
Personal Protective Equipment should be worn by the forklift operator and high-vis workwear worn by any employees or visitors that may be walking outside of designated areas. The forklift must have working warning devices to alert others of movement, for example, a reversing alarm and horn.
Do you have ramps in your workplace? These should be secure and have edge protection. They must also meet the forklift manufacturer's specified gradient for forklift operation.
Don't forget about your speed! Speed can be controlled by specifying work area speed limits. Even at low speeds, forklift injuries can occur to both the driver and pedestrians if traffic areas are not properly controlled.
3. Forklift pre-start safety check
It is crucial that a pre-start safety check is conducted at the beginning of each shift, or anytime you operate a different forklift. Remember to report any damage or issues immediately so the forklift can be repaired before it is used again.
Try this pre-start safety checklist for your peace of mind:
Check the forklift and any attachments for deformation, damage or wear and make sure that the forklift load rating and attachments are right for the task
Ensure that you are familiar with the operating controls
Inspect that all lift and tilt systems including attachments are operating correctly
Check that the steering, brakes, operating controls, warning devices, and lights are all working properly
Inspect the tyres for any wear or damage
Check the fluid levels (oil, water, brake fluid, etc.)
Inspect any gas cylinders and their securing system (if present)
Ensure that seat belts are reliable
4. Seatbelts save lives
Seatbelts are there for a reason. When operating a forklift, if seatbelts and other restraint systems are provided then they should be worn. Unless a risk assessment has indicated that this is not safe, a safe thing to do and another measure has been applied, wear your seatbelt.
Why? Should the forklift tip-over, the seatbelt will keep the driver in the cab, rather than risk being thrown out and potentially being crushed or trapped by the forklift.
It's more common than you think! A forklift can tip over for several reasons, including:
Excessive speed
Braking too hard
The driver leaning out of the cab
Overloading or unstable load
Moving when the mast and load is elevated
Surfaces that are sloped
Travelling down/turning sideways on ramps
5. Forklift attachments
A forklift should only be fitted with lifting attachments that are right for the load it plans to move, and as according to the manufacturer's instructions.
You should always have information relating to the attachment fitted to the forklift on-hand, and by using this information and the forklift load chart, you can calculate the de-rated load capacity for the forklift.
6. Forklift hire guarantees equipment is well-maintained
Forklift rental can also assist in the reduction of workplace injuries as, here at Hyworth Forklifts, we guarantee the quality of our forklift rental fleet. You can rest assured each forklift has been professionally serviced and maintained, with all ongoing maintenance, servicing and repairs included in the rental cost.
Forklift hire provides you with the benefit of being able to keep up to date with quality equipment and enables timely forklift replacement without a large capital outlay.
By adopting safe workplace practices and ensuring that equipment is well-maintained the risk of forklift-related injuries can be greatly reduced.
If you would like to reduce your forklift safety concerns and/or find out more about our short-term and long-term forklift hire options, talk to our skilled and helpful team today on 1300 499 678