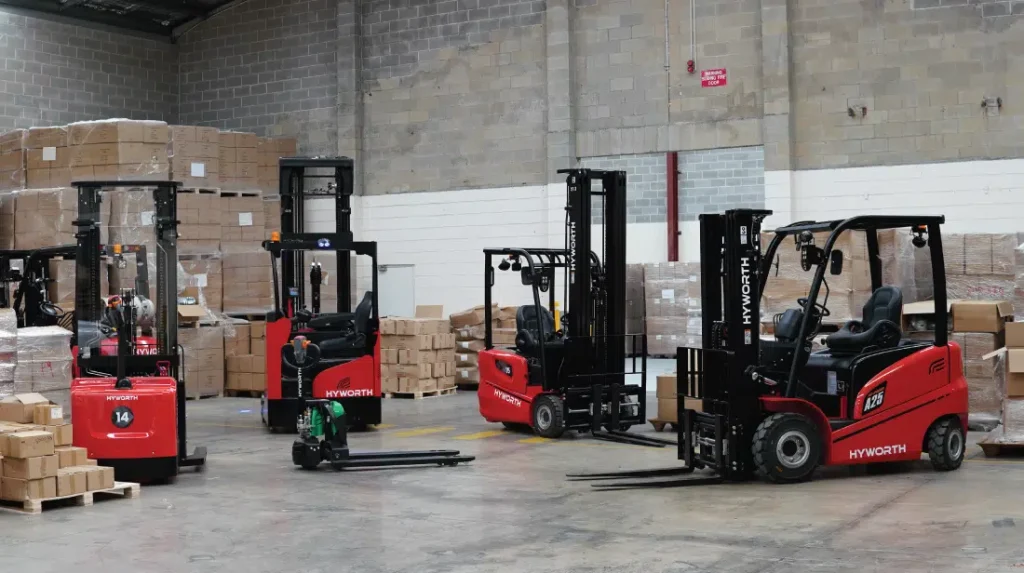 Whether you're looking to buy your first forklift or you're looking to upgrade your existing fleet, it can be difficult to know where to begin. Like with any major purchase decision, prior research is essential to ensure you receive the best value for your money. Research allows you to explore all the options available to you. This way, you can make comparisons and determine which product is right for your business.
To support you in your hunt for the perfect forklift, we've outlined six reasons to research before you buy.
1. Avoid dishonest dealership
During your forklift search, some seemingly great bargains may catch your eye. If you are unsure if the forklift dealer seems genuine, it is important to search for social proof. This can be in the form of customer reviews on Google or social media. When looking through reviews online, check to see if they are from a reliable source and make note of any negative reviews. If you are looking to purchase a second-hand forklift, buying from a reputable dealer will ensure the forklift has been maintained properly to Australian Standards and that an appropriate warranty is included.
2. Make an educated decision
When beginning your forklift research, you may be unaware of all the different components that need to be considered. As you delve into your research, you will begin to read reviews and assess a variety of reliable websites. As a result, other factors may come to light which you may not have considered initially, such as warranty. If a forklift comes with a warranty, you are covered for a period of time if a breakdown occurs. This can significantly impact the long-term cost of your investment. By conducting research, you can compare different warranty policies and make an educated decision.
3. Determine the best value for money
Research allows you to compare a variety of different options so that when it is time to make your decision, you can be confident you have locked in a great deal. Before you buy a forklift, it is a good idea to create a spreadsheet that has a variety of different headings. This way you can compare price, lifetime value, year model, expected maintenance requirements, warranty etc. Seeking out a range of different quotes from forklift providers will give you a good understanding of what you can expect to pay for quality. Once you have gathered information on a variety of sources, it will be easier to determine which forklift is best for your business and for the best price.
4. Know your options
Forklifts come in many different shapes and sizes, each designed to meet different workplace requirements. Some models offer very similar product descriptions with only slight variations. This can make things difficult when determining which model will best fit your needs. During your research, you can start to compare models by following set criteria. Take into account each forklift's different features, such as the maximum lift capacity, lifting height, type of motor, tyre composition and operator ergonomics. Using consistent criteria throughout your research will help you accurately compare the different types of models and narrow down your list before you buy a forklift.
5. Find your perfect match forklift
Although online research is a great place to start, if you want to be certain you have the right forklift for your business, you will need to step away from Google and take a visit to the warehouse. Imagine if you were buying a car without a test drive? You couldn't be certain that the car you saw online is the right car for you. The same applies to buying a forklift; physical research is essential to know you have the right equipment for your type of work. At Hyworth Forklifts, we offer free, on-site product demonstrations so you can learn how the machine operates in your specific work environment. Or you can visit the Hyworth Forklifts showroom to test and inspect first-hand the different forklift models all in one place.
6. Discover alternative options
It is not uncommon that a customer will end up leaving the warehouse with a completely different product than what they expected. In some cases, they may not end up buying a forklift at all. Some of our customers begin their search with an expectation to purchase, then after assessing all their options, they decide hiring a forklift is a more affordable and realistic investment for their business. At Hyworth Forklifts, we recommend our 'try before you buy' option before taking the leap to purchase, so you can be certain the machine is right for you before you purchase. 
— 
Are you ready to take your research to the next level? Book an on-site consultation with our team today by calling 1300 499 678 or contact us today.