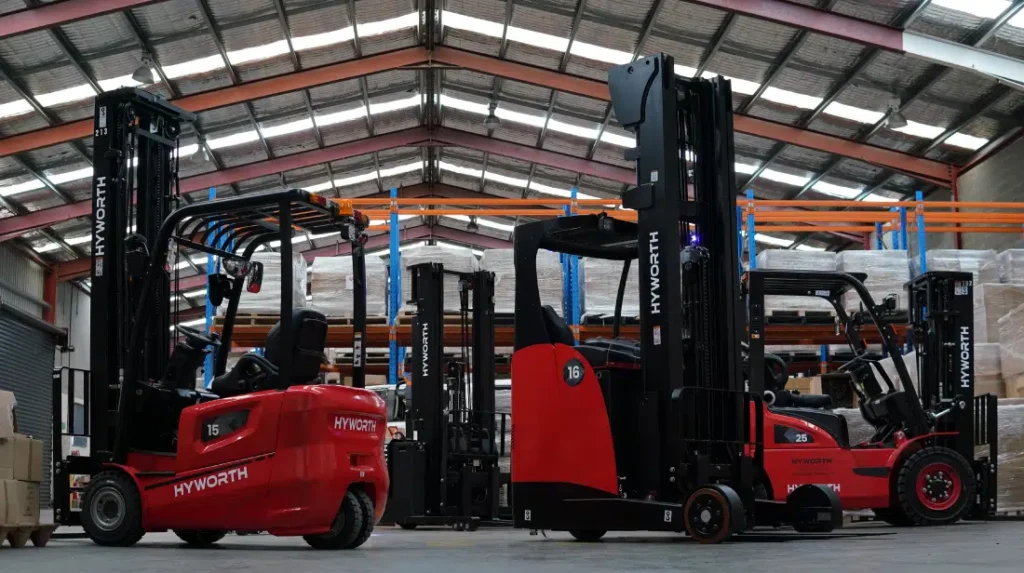 At Hyworth Forklifts, we have a variety of forklifts that are suitable for different workplace situations. This blog, paired with our perfect match tool, will help you determine which forklift model will be best to ensure your workplace is equipped for maximum productivity. 
To help you pinpoint which model will best suit the unique demand of your warehouse, here is your guide to finding your perfect match forklift.
1. Where will the equipment be used?
The environment in which a forklift is being operated plays a key role in determining which model is best for you. To begin with, you need to consider whether you will be operating the forklift indoors, outdoors or a mix of both. This plays a crucial role in determining other factors such as the forklift type, fuel, and tyre selection.
In addition, you should consider if you will be primarily operating the forklift on smooth or rough surfaces. If you are operating on smooth surfaces, opt for a forklift with a tight turning radius that can make sharp turns in narrow aisles. For example, a walk-behind forklift or reach truck will help you reach your maximum workplace efficiency. 
2. Think about your terrain
Once you have assessed your workplace environment, you can use this information to determine which tyre selection is right for you. Forklifts have two main types of tyres, which are press or standard. Press on tyres come with the advantage of being easy to fit. However, when it comes to operating on tough terrains, they are less durable in comparison.
Other tyres, including cushion tyres, solid tyres/puncture-proof, pneumatic tyres, polyurethane wheels, non-marking tyres and foam fill are alternative options, each with their own advantages.
Cushion tyres are ideal for smooth surfaces and indoor use. Whereas pneumatic tyres are strong and durable, designed to tackle challenging outdoor conditions.
It is important to keep in mind that each forklift comes with a particular frame that fits certain tyre types. This can't be changed later. Therefore, it's important to consider the conditions you will be working in and how often you will use your forklift before you lock in a purchase.
3. Focus on power
There are several power types for forklifts, each come with their advantages and are suitable for different working environments.
Firstly, electric forklifts can be used for both indoor and outdoor operations. They don't emit any emissions, which mean no harmful gases and fumes throughout your workplace. If you are operating indoors, an electric forklift will result in cleaner air, helping to create a safe and pollution-free working environment.
Similarly, the LPG/Gas powered forklifts are also suited to handling heavier loads in outdoor areas. They can be easily sourced and quickly replaced. Their main advantage is their versatility and can be relied on for both inside and outside conditions, the perfect match for flexible work environments.
4. Consider capacity
Forklift capacity is the amount the forklift is able to lift and carry safely. An important rule of forklift operations is not to overload your forks. Overloading your forks can cause the machine to tip. This can result in severe damage to the forklift and injury to the operator.
By having a clear understanding of the maximum load size and capacity before you buy a forklift, you can avoid purchasing a forklift that can't safely handle your heavy loads. A forklift capacity can range from 1.5 tonnes up to 10 tonnes and beyond. To err on the side of caution, purchase a forklift with a larger load capacity than you predict needing.
To help you determine capacity needs, here are some essential questions to ask yourself before you buy:
How heavy is a typical load?
What is the lenght of my largest load?
Will I need attachments on the lift truck?
What type of attachments will it utilise?
What height will I need to lift the loads?
5. Know your maximum lift height
Finally, if you are working in a warehouse with tall pallet racking, ensure you know the maximum height. This will help ensure you buy a forklift that can meet your requirements.
Your workplace may require you to reach shelves that are greater than a typical lifting height. If this is the case, Hyworth Forklifts have machinery that is tailored to meet these unique requirements. For example, our reach truck forklifts are designed to handle heavy loads. They also have the versatility to maneuver in a tight turning circle, which allows for a more spacious warehouse. Once you can stack your warehouse products up high, you can store more inventory while saving aisle space. 
What is the next step to find your perfect match ?
Now you are familiar with these five essential considerations, it's time to find your perfect match!
Our experienced team can provide you with personalised advice, helping you buy a forklift that is bound to boost your workplace productivity. Get in touch with our skilled and friendly team today on 1300 499 678.