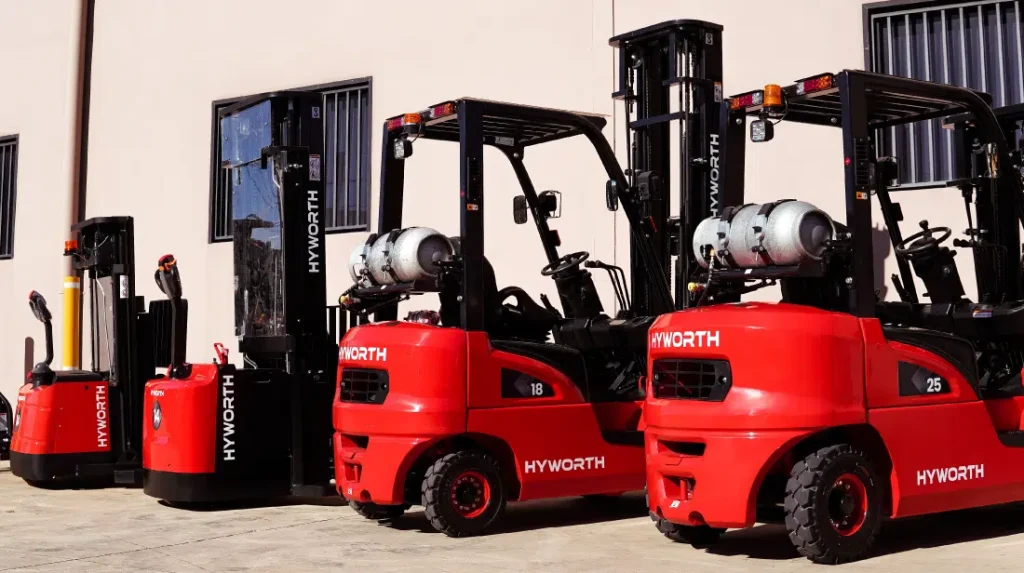 For any business in the warehousing/distribution industry, it is essential to optimise resources in such uncertain times. The right forklift can help you increase your workload, optimise your storage space and prevent accidents in the workplace.
Without a pre-purchase site survey from a professional, you may end up with a forklift that isn't the right fit for your business or doesn't align with your long term goals, costing your business excess time and money.
At Hyworth Forklifts, our mission is to evaluate your work environment closely, so we can match you with machinery that will optimise your workplace. We don't believe in making off-the-cuff recommendations before we have developed a deep understanding of your business.
To understand your business, our expert consultants will visit your warehouse and assess your workplace operations. The findings will allow our team to make informed recommendations, matching you with the best machinery for your business requirements.
To help you understand our process, we've outlined 5 reasons to request a pre-purchase site survey.
1. Site surveys guarantee accurate measurements
While we are sure you know your warehouse layout like the back of your hand, it is essential to be 100% accurate when it comes to measurements. Trust us; a second set of eyes can go a long way.
One of our forklift experts will measure the length, width and height of your aisles, pallets and storage space. They will also assess your area and consider the maximum load you will need to carry at any given time. All these factors will assist our team in determining which specific type of forklift will best suit your business needs.
2. Improve your warehouse layout
In addition to carefully measuring your area, a qualified member of our team will observe how you use your current space. You can make slight tweaks to the warehouse layout that can benefit your business in terms of storage space and cutting costs on unnecessary downtime. 
For example, a vertical warehouse layout provides many businesses with a competitive advantage as they can maximise their storage space. We have specific forklifts that are designed to navigate between narrow aisles and reach high shelves, perfect for warehouses with vertical pallet racking.  
3. Increase your workplace productivity
When conducting a site survey, our goal is to gain valuable information about your workplace environment. This information helps our team match you with a forklift model that will best increase the productivity of your workplace. After all, machines are designed to make life easier! 
With this in mind, a site survey will assess all aspects of your workplace from the type of terrain, predicted operating hours, the level of experience your team has with forklift operation and everything in between.
All this information combined will help our team recommend the most suitable option. For example, suppose your business will benefit from having multiple employees able to operate a forklift; we may recommend a machine that is easy to navigate and doesn't require a forklift license. 
4. Match your forklift to your goals
A site survey will assist our team in providing you with the best forklift solution to support your business goals. For example, if your primary goal is to cut costs, we can recommend a forklift with lower fuel and maintenance costs.
Short term and long term goals must go hand in hand when making significant business decisions. Our experienced forklift dealers know the importance of considering not only your current situation but the future of your business. As forklifts can last for several years, it's essential to consider any plans for warehouse expansion when calculating the maximum height, load and width. During a site survey, our sales executive will ask questions about your long term goals to ensure we match you with a forklift that supports your plans to expand your business.
5. Site surveys provide peace of mind
A site survey will provide you with peace of mind that your machine will be able to handle your heaviest loads, fit through tight aisles, and reach your highest shelves. Additionally, you will also have peace of mind that you are receiving the safest machine for your employees.
A site survey provides confidence that you are receiving the best machine for your requirements. Inaccurate measurements may result in insufficient lift capacity, which can threaten the safety of you and your team. Lifting heavier than the recommended weight can have a hazardous outcome, causing the forklift to tip and fall.
A site survey gives you the peace of mind you have invested in a product that will be beneficial to your business and keep your employees safe.
Don't risk purchasing a machine that isn't right for your business. Our experienced team can visit your workplace and recommend the perfect match for your business. Contact us today to organise a site survey.