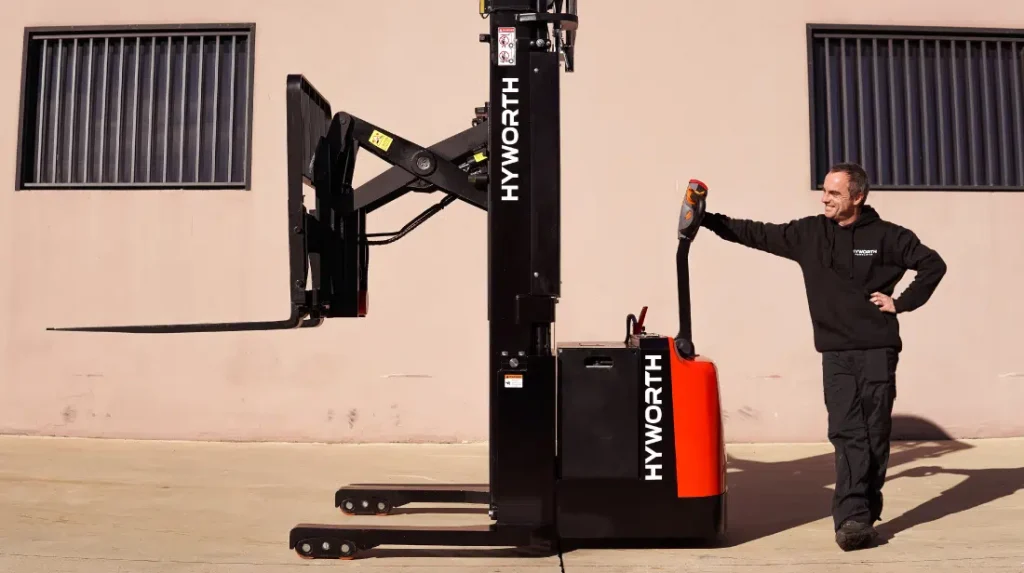 For businesses in the supply chain and warehousing industry, workplace productivity, reducing downtime and improving workplace safety are all essential to growing your business in 2022. To achieve these goals, you need the correct material handling equipment.
Choosing the perfect machine(s) from the right forklift provider will put you on the right track. If 2021 was a successful year for your team, imagine what you can achieve with the right new forklift in 2022. 
To help set you up for success, we've outlined five ways a new forklift can support your 2022 business goals.
1. Improve your workplace productivity
Forklifts are designed to increase workplace productivity. But outdated or non-suitable machinery can have the opposite effect, especially if you've purchased from an unreliable dealer. Different forklift models are made with unique features that are designed to complete specific jobs. A machine may operate effectively in one environment, but not others.
To ensure you have the correct machine to complete your tasks at an efficient pace, our team can conduct a site survey. A site survey will involve a thorough examination of your warehouse. As well as your current situation in order to gain an in-depth understanding of your business. This information is used to recommend a forklift model that will support your business growth. For example, machines with a faster lift and travel speeds can assist with moving loads more efficiently. Alternatively, compact machines with a fast turning circle can assist warehouses that need to swiftly navigate between tight aisles.
2. Reduce downtime caused by breakdowns
Downtime can be a massive hindrance to any business. Especially when there is immense pressure to complete a job quickly, in order to keep the supply chain progressing on schedule. With this in mind, businesses should strive to reduce downtime, encouraging an efficient and fast-paced warehouse. Unfortunately, unexpected breakdowns caused by faulty equipment, a poor warranty contract or lack of operator training can lead to unnecessary downtime.
One way to reduce your risk of unexpected breakdowns is to use a credible forklift company. A credible forklift provider should offer support if a breakdown were to occur. At Hyworth Forklifts, we have processes in place to ensure downtimes will never affect your business for an extended period. Our service and reliability guarantee for all hire products ensures we provide expert breakdown support within 4 business hours. If we can't repair your forklift within 48 hours, we'll replace it, at no cost to you. Additionally, we also offer a warranty so you aren't left without a forklift when you need it most.
3. New machinery means a safer workplace
No matter what industry you are working in, improving your workplace safety should be a top priority. It's easy to get complacent and stop taking simple safety precautions that can end up costing your business thousands of dollars, as well as injuring yourself or your employees. 
If you're a business that works with forklifts regularly (or at all) it's important to undertake regular forklift safety training. Everyone who is involved in forklift operations should attend training to ensure consistent protocol is followed. For example, safely parking the forklift in the designated area and following the same criteria when performing a pre-operation safety check. As a bonus, new machinery means advanced safety courses, which can teach your employees new techniques to move and store products quickly and safely.
4. Improve your workplace environment
An unorganised warehouse can make it extremely difficult for your employees to operate at an efficient pace. A poor layout can also be a contributing factor to a variety of setbacks, such as safety concerns, lack of storage space and decreased employee motivation.
While it might seem like your jam-packed warehouse has little room for anything else, assessing your warehouse layout can create much-needed space. If you are considering changing your current layout, we can help match you with a forklift that will perfectly fit your new design. A vertical layout, paired with a machine with a suitable lift function can help you take advantage of storage space and provide easy access to inventory on high shelves. 
By assessing the design of your current warehouse and looking to make adjustments, you can not only store more products at one time, but you can also increase the efficiency and the happiness of your employees.
5. Future-proof your business
Successful business owners are always thinking of the long-term. They look towards the future to find ways they can improve and grow their business each year. Hyworth Forklifts keep this top of mind when matching you with the perfect machinery for your current and future business requirements.
During a site survey, we will ask questions to address any plans about upgrading your warehouse or changing environments. This allows us to recommend the most suitable model. As well as determine whether hiring or buying will be best for your business.
If you're looking for a company that can help you achieve your business goals for 2022, our team will be happy to help. We provide tailored advice to pair you with machinery that will support your business' growth. Give us a call on 1300HYWORTH to talk to a friendly member of our team.